The Department of Health Care Access and Information is releasing the March Health Care Payments Data (HPD) Quarterly Newsletter. The newsletter is designed to keep stakeholders informed on programmatic updates including information about the upcoming Advisory Committee Meetings, relevant federal updates impacting All Payer Claims Databases (APCD) and HPD careers.
HPD Programmatic Updates
New HPD Data Submission Resource – HPD Reporting Manual: The HPD program has published a reporting manual that includes discussion and comments related to the implementation of HPD data submission regulations. The reporting manual is intended to be a companion to the APCD-CDL™, the HPD Data Submission Guide and regulations. The HPD reporting manual is available under the resources section or by going to this link: HPD Reporting Manual v1.0.pdf (ca.gov).
Plan and Submitter Registration*: will open plan registration on March 7, 2022. Submitter registration is set to open on April 4, 2022. All plans and submitters must complete registration no later than May 27, 2022. Registration is required in order to submit data to HPD per California Code of Regulations Sections 97330 through 97334. A link to access registration for either a plan or a submitter will be emailed directly to noted contacts already on file with HCAI on opening day of registration. If a plan or submitter did not receive a registration link or has other registration questions, please contact Onpoint Health Data at HPD-support@onpointhealthdata.org.
Plan/Submitter Trainings: , is hosting a series of training webinars on the HPD platform in preparation for registration and the start of submission testing. These training webinars will be geared towards HPD data submitters. Past trainings have covered the topics of Introduction to APCD-CDL™ and Data Submission, SFTP & PGP Encryption, and Plan Registration. Upcoming trainings will cover the topics of Submitter Registration (March 30 11:00 am-12:00 pm (PST)), and CDM (Data Submission Portal), Validations, and Variances (April 7, 10:00-11:00 am (PST)). Registration information for these trainings will be sent to submitters the week before the training date. Please contact hpd-support@onpointhealthdata.org for more information about training registration. Recordings will be made available upon request and materials will be posted on the HPD Submitter Website.
*See HPD Regulations for definitions for "plans" and "submitters"
HPD Advisory Committee
HCAI is hosting the next Health Care Payments Data Program Advisory Committee Meeting on April 28, 2022. The meeting will be held from 9:00 a.m. to 12:30 p.m. (PST).
The Governor's Executive Order N-29-20, which provided flexibility to state and local agencies and boards to conduct their business through virtual public meetings during the COVID-19 pandemic, is set to expire as of March 31, 2022.
As of April 1, 2022, all HCAI public bodies, including the HPD Advisory Committee, will be meeting in accordance with the Bagley Keene Open Meeting Act provisions, ensuring that all teleconference locations are accessible to the public and noticed in the agenda.
The April meeting will focus on the Data Release Committee and the data access approach. The agenda and all other meeting materials will be posted on the HPD Advisory Committee website prior to the meeting.
2022 Advisory Committee Meeting Dates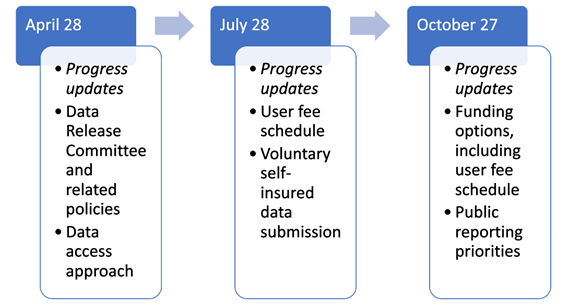 Are you interested in joining the HPD Team?
Watch for job opportunities coming soon to support the Health Care Payments Data Program at: http://hcai.ca.gov/about/career/jobs.
Watch HCAI's Monthly News Update for more department wide updates
About the HPD Program
Assembly Bill 80 (Chapter 12, Statutes of 2020) provides HCAI the authority to establish the Health Care Payments Data Program (HPD), often referred to as an All Payer Claims Database or APCD, which is intended to support greater health care cost transparency, inform policy decisions supporting quality health care, and to reduce health care costs and disparities.
To find out more please visit HCAI's HPD Webpage or email hcai@oshpd.ca.gov. If this newsletter was forwarded to you, and you would like to receive future ones please subscribe to "Healthcare Payments Database News" here.