The Department of Health Care Access and Information (HCAI) is releasing the June Health Care Payments Data (HPD) Quarterly Newsletter. The newsletter is designed to keep stakeholders informed on programmatic updates including information about the upcoming Advisory Committee Meetings, relevant federal updates impacting All Payer Claims Databases (APCD) and HPD careers.


HPD Programmatic Updates
Save the date for HPD's Submitter Group Meeting: The third quarter HPD submitter group meeting will be held on July 14, 2022, from 10:00 a.m. to 11:30 a.m. (PST). The agenda and registration link for the meeting will be posted to the HPD Program Submitters website.
Historical Data File Testing and Submission: Registered submitters have until July 29, 2022, to complete historical data testing per California Code of Regulations Section 97350. To begin testing, submitters must complete a set of security and encryption prerequisites with Onpoint Health Data. Please view training materials regarding SFTP & PGP Encryption on the HPD Program Submitters website. For questions about SFTP & PGP encryption please contact hpd-support@onpointhealthdata.org. Historical data file submissions are due to HPD by October 28, 2022, per California Code of Regulations Section 97351.
Data Release Regulations Workshop Meeting: HCAI is holding a meeting to gain input regarding proposed data release regulations for the HPD Program. This meeting will be held August 10, 2022, from 10:00 a.m. to 12:00 p.m. (PST). The meeting will be held virtually via Microsoft Teams. A registration link will be sent out shortly and meeting materials will be posted on the HPD website prior to the meeting.
Plan and Submitter Registration*: HPD plan and submitter registration for this year is now complete. Registration is required in order to submit data to HPD per California Code of Regulations Sections 97330 through 97334. Please contact Onpoint Health Data at HPD-support@onpointhealthdata.org if there are any questions regarding the plan and submitter registration process.
HPD System Data Collection: 2020 Medicare fee-for-service data has been acquired from Center for Medicare and Medicaid Services, Medi-Cal test data has been acquired from the Department of Health Care Services, and quarterly vital statistics data has been acquired from the California Department of Public Health.
Participation in National Workgroups: HCAI and the HPD Program continued its participation in the APCD Council's All-Payer Claims Database Common Data Layout (APCD-CDL™) Data Maintenance Request (DMR) workgroup, helping develop the APCD-CDL™ version 3.0 layout to collect healthcare claims data from payers in California using the national standard. HCAI and the HPD Program also continued participation in the Non-Claims-Based Payments workgroup, in an effort to develop a national standard for collecting Alternative Payment Model data from payer and provider organizations.
HPD Advisory Committee
HCAI is hosting the next HPD Program Advisory Committee Meeting on July 28, 2022. The meeting will be held from 9:00 a.m. to 12:30 p.m. (PST).
The Governor's Executive Order N-29-20, which provided flexibility to state and local agencies and boards to conduct their business through virtual public meetings during the COVID-19 pandemic, expired March 31, 2022.
As of April 1, 2022, all HCAI public bodies, including the HPD Advisory Committee, will be meeting in accordance with the Bagley Keene Open Meeting Act provisions, ensuring that all teleconference locations are accessible to the public and noticed in the agenda.
The July meeting will focus on user fee schedule and voluntary self-insured data submission. The agenda and all other meeting materials will be posted on the HPD Advisory Committee website prior to the meeting.
Advisory Committee Meeting Dates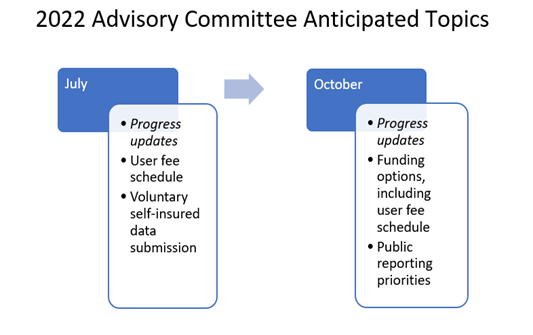 Are you interested in joining the HPD Team?
Watch for job opportunities coming soon to support the HPD Program at: http://hcai.ca.gov/about/career/jobs.
Watch HCAI's Monthly News Update for more department wide updates.
About the HPD Program
Assembly Bill 80 (Chapter 12, Statutes of 2020) provides HCAI the authority to establish the Health Care Payments Data Program (HPD), often referred to as an All Payer Claims Database or APCD, which is intended to support greater health care cost transparency, inform policy decisions supporting quality health care, and to reduce health care costs and disparities.

To find out more please visit HCAI's HPD Webpage or email hpd@hcai.ca.gov. If this newsletter was forwarded to you, and you would like to receive future ones please subscribe to "Healthcare Payments Database News" here.