Introduction
The Healthcare Payments Data Snapshot is an overview of data currently available as submitted in the HPD System with visualizations that allow users to explore how many Californians received coverage from each type of payer and the number of medical or pharmacy service records generated. Two visualizations highlight the 25 most frequently reported medical procedures and the 25 most reported drug prescriptions dispensed, with filters to view the frequency of specific procedure categories or prescription drug classes. Navigate through the visualizations using the four tabs at the bottom (Data Overview, Data Availability, Medical Procedures, Drug Prescriptions) and use the drop-down menus to filter the characteristics and types of information displayed. The underlying data is available for download.
Feedback
HCAI anticipates continuing to advance the accessibility and usefulness of HPD as the database becomes more comprehensive and complete and HCAI builds its capacity over time.
HCAI wants your feedback about how you are or are planning to use HPD data and what you would like to see in the future from the HPD Program. Share your feedback with HCAI staff by clicking the button below.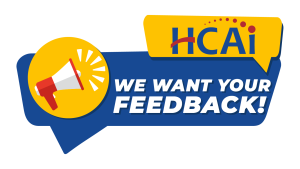 Glossary
Record Types
Types of data collected and available in HPD (see Data Availability tab). Enrollment Records: Records related to membership or coverage and are typically generated once a month. Service Records: Records of a service provided, or service lines, from an encounter or on a claim.
| | |
| --- | --- |
| Unique Individuals | Total Records |
| Number of individuals with at least one Enrollment Record. | Number of Enrollment Records in HPD for a given year. An individual with continuous coverage with a single payer would have 12 records per year. |
| Number of individuals with at least one Service Record. | Number of Service Records in HPD for a given year. |
Payer Types
Payers are the companies, programs, and organizations that oversee insurance plans and reimburse healthcare providers. Three main types of payers make up the majority of the insurance market.
Medicare: A federal health insurance program funded by the Centers for Medicare & Medicaid Services under the Social Security Amendments of 1965 that provides healthcare benefits to those aged 65 years and over or to disabled beneficiaries of any age.
Medi-Cal: A public health insurance program that provides free or low-cost medical services and healthcare benefits to low-income individuals, financed from state and federal funds; California's version of Medicaid.
Commercial: The collection of insurance product types for which the coverage premium is paid by a private party – an employer and/or individual or other entity.
Product Types
Product refers to a set of plans that share a provider network model, payer type, and a similar set of benefits.
Medicare Products
Medicare Advantage: A federal Medicare program administered through commercial insurers; also known as Medicare Part C or Medicare Managed Care. This includes specialized managed care programs such as Special Needs Plans (SNP).
Medicare Fee-for-Service (FFS): A federal Medicare program managed and administered by the Centers for Medicare & Medicaid Services that provides Hospital (Part A) and Medical (Part B) coverage.
Medicare Drug Coverage: A federal Medicare product that covers pharmacy costs and can be added to supplement Medicare FFS; also known as Medicare Part D. This product is separate from the pharmacy coverage included in Medicare Advantage plans.
Medi-Cal Products
Medi-Cal: California's version of Medicaid, financed from state and federal funds, that provides free or low-cost medical services and healthcare benefits to low-income individuals; includes both fee-for-service and managed care coverage.
DHCS Other: Health insurance programs for specific populations like the Genetically Handicapped Persons Program (GHPP) and California Children's Services (CCS), administered by the California Department of Health Care Services (DHCS).
Commercial Products
Exclusive provider organization (EPO): A type of health insurance plan that covers only in-network providers.
Health maintenance organization (HMO): A type of health insurance plan that limits coverage to providers who directly work for or contract with the HMO.
Indemnity: A type of health insurance plan does not require its members to select a primary care provider (PCP) and allows its members to see any provider, regardless of network, without a referral.
Preferred provider organization (PPO): A type of health insurance plan that does not require its members to use in-network providers but requires less cost-sharing if they do. Referrals are not required to see a specialist.
Point of service (POS): A type of health insurance plan that does not require its members to use in-network providers but charges lower payments if they do. Unlike PPO insurance plans, referrals are required to see a specialist.
Prescription Drugs: A type of health insurance plan that only covers out of pocket costs for pharmacy services.
Other Commercial: Commercial health insurance products that do not fall under a product type listed above.
How HCAI Created This Product
This product was developed using the HCAI Healthcare Payments Database, California's All-Payer Healthcare Claims Database (APCD).
The HPD Snapshot contains data for services rendered from January 2018 to December 2021 and includes fully adjudicated claims. When new years of data are added, previous years' data will be updated to include any newly processed records for those prior years. The 2018 to 2021 data was part of an initial "historical file" collected at the start of the HPD Program. While HCAI has collected 2022 calendar year data and is in the process of collecting 2023 data, the only data publicly available currently is from 2018 to 2021. As more complete years of data become available, they will be added to published public reports on a regular basis.
Medicare fee-for-service data is collected according to the Centers for Medicare & Medicaid Services (CMS) data release schedule, which can result in lagging Medicare fee-for-service data availability and influence the rank of Product Types in the most recent years. See the Data Availability tab to view which totals include complete Medicare data.
Some payers such as, self-insured employers subject to ERISA, the prison system, active military, Veterans Affairs, TRICARE, the Indian Health Service, and Taft-Hartley trusts are not required to report HPD data to HCAI. Some voluntarily submitted data for self-insured employers is currently incorporated in the HPD database. Learn more about HCAI's effort to encourage voluntary submission.
Data in the HPD and data from other sources may differ in member counts due to a number of factors, the largest being HPD must identify and track the unique identity of individuals across different payers over time. It is continually refining its approach to ensure an accurate count of these unique individuals. As these methods improve, the HPD Program expects to identify more linkages – cases in which two or more records are determined to belong to a single individual. Therefore, the count of unique individuals is likely to decrease when linkages are incorporated and accounted for.
If an individual changes to a different product type or payer type within a calendar year, they will be included in the aggregate counts for both types that year but will only be counted once in the total number of covered individuals. Individuals enrolled in multiple product types at the same time will only be assigned to the product type that is identified as the primary payer. In cases where there is discrepancy in the reported data on which payer is primary, the order of assignment is: commercial payers, followed by Medicare, and then Medi-Cal.
Healthcare Common Procedure Coding System (HCPCS), Current Procedural Terminology (CPT) codes, and Health Insurance Prospective Payment System (HIPPS) codes are grouped into medical procedure categories using a modified version of the Agency for Healthcare Research and Quality (AHRQ) Clinical Classification Software (CCS). The modified version reclassifies some "Consultation, evaluation, and preventive care" procedures into new categories such as "Behavioral health services" or "Critical care services". Download the underlying data to search by procedure code. Type of Setting categories are assigned using bill type codes, place of service codes, procedure codes, and revenue codes on claims and encounter records.
IBM Micromedex RED BOOK was used to group prescription drug information based on National Drug Code (NDC). Download the underlying data to search by NDC.
Pharmacy records, and the count of prescriptions filled, refer only to medications filled at a pharmacy with a prescription and billed to the payer. These counts do not include physician administered drugs (PADs) received during a visit like anesthesia, analgesics, or IVs. PADs are listed as services in the Medical Procedures visualization. Self-pay prescriptions (no coverage, or coverage not used) are also not included.
The HPD Snapshot follows the California Health and Human Services Agency's Data De-Identification Guidelines.
Additional information regarding how HCAI created this product is available in the Technical Notes.
Additional Information
Topic: Cost Transparency
Source Link: Cost Transparency – Healthcare Payments Data
Citation: HCAI – Healthcare Payments Data – Healthcare Payments Data Snapshot, 2018-2021
Temporal Coverage: 2018-2021
Spatial/Geographic Coverage: Statewide
Frequency: Annual